---
---
Hassle Free Return Customers may return products within 30 days of delivering for a refund - no question asked. See Details
Money Back Guarantee Full Refund or Exchange if item is not as described, damaged, missing or does not arrive.
---
【ALL IN ONE SURVIVAL KIT FOR EXTREME ADVENTURES】

This all in one survival kit contains everything that any survivalist or outdoor enthusiast would need. 

Includes: Survival Bracelet*2, Emergency blanket*2, Carabiner*2, Flintstones, Scraper, Compass, Swiss saber card knife, Flashlight, Whistle, Folding knife, Mini light, Pull ring saw, Signal mirror, Tactical pen, Water bottle clip and Molle pouch. 
【UPGRADED - MORE SAFETY AND PRACTICAL】

Cold Steel Military Knife: Black cold steel blade and black aluminum handle. Anti-Rust, Durable; Temperature Compass of military grade; 5-IN-1 paracord bracelet with embedded compass, fire starter, emergency knife & whistle
【BREAKING CAR GLASS IN EMERGENCY & SIGNAL TO RESCUERS】

A tactical pen is prepared for breaking car glass in emergency, also can be used for self defense and normal writing. the whistle that made by Aluminum Alloy generates sound as loud as 120db, Double Tube with high frequency design can be heard from far distance, help you easier to be found by rescuers
【FITS INTO BACKPACK, LIGHTWEIGHT, DURABLE AND WATERPROOF CARRY CASE】

The dimensions of our professional survival gear is 4.1 x 1.8 x 6.3 inches. This ultimate kit is compact enough to easily fit into your backpack and car
【PERFECT GIFT】

It's necessary when camping, hiking, adventures, survival and in emergency situations. Your husband or brother would find this pretty cool as a stocking stuffer or birthday gift. And also can develop the child's ability to survive with kids hiking and camping kit. Giving a surprise to your Darling.
Feature:
1.Unique Swiss Card
Credit card sized, easily to fits inside your wallet, pocket. 11 Functions:Can Opener, Bottle Cap Opener, 4-Position Wrench, 2-Position Wrench, Butterfly Screw Wrench, Direction Ancillary Wrench, Screwdriver, Knife Edge, Saw Blade, Ruler, Key chain Hole.
2.Tactical torch Flashlight
With zoomable design, heavy duty, compact handheld flashlights, zoom in for an intense beam or out for wider illumination. 3 light modes like High / Low / Strobe. With its ultra-bright LED light, and ability to run for hours of just a single AA Battery (Not Included).
3.Survival Paracord Bracelet
5 IN 1 Survival Bracelet Provide build the 2nd defense for your safety - High-Quality Compass, Little Fire Starter Kit, Emergency Whistle. The Fire Scrapper can use as a knife and bracelet rope can use for emergency.
4.Tactics Military Knife
Cold Steel Military Knife, black cold steel blade, and black aluminum handle. Anti-Rust, Durable.
5.Compass
Metal Sighting Compass, Rugged metal case, adjustable luminous marching line, thumb hold and magnifying viewer, sighting hairline, protected with a folding cover.Compass of military grade, Features 360 degree rotating bezel for easy navigation & orienteering.
6.Emergency thermal blanket
Thermal Blankets / Emergency Blankets are essential for preventing hypothermia as they retain 90% of body heat. They can also be used as a signal, to make a shelter, or as an extra layer in cold weather.
7.Emergency Tungsten Steel Pen
The handle screw design, grasp the more strong, can rotate telescopic hidden cartridge, the operation is simple, convenient and practical, can be used as defense self-defense, handwriting signatureas or mark rocks, as Safety Hammer help quickly broken a car or train glass in an emergency
8.Flintstones
With protective layer need peel off before use, 5000-12000 times life, with Flint /Bottle Opener/Scraper. Applicable at anywhere, anytime and any condition
9.Reflective Lenses
Outdoor Micro Signal Mirror Lightweight Survival Emergency Rescue Signaling Device.
10.Whistle
Made by Aluminum Alloy generates sound up to 120db, which can be heard from a distance, making it easy to be found.
11.Pull Ring Saw
Using saw to make a flexible knot on cutting object, place both thumb on either side of the ring, do v-shaped incision back and forth pulling.
12.Water Bottle Clip
Simple and firm way to carry water bottles.
13.Portable Mini Light
Small, practical can also be a key ring.
14.Carabiner
Make from lightweight and durable anodized aluminum alloy strong and elegant. Great for outdoor activity, camping, fishing, hiking, traveling, keychain etc. The high quality Carabiner features a spring loaded gate and screw lock which allows them to be quickly and securely attached to a wide range of fixing points. It can open and close smoothly as the spring-loaded gate makes it easy to attach important items to a pack or belt.
15.Tactical Camo Molle Pouch
Tough Nylon Molle bag keeps the survival kit compact for easy storage in your pack, car or bug out bag. Use the straps to attach this to a belt, outside of a pack or on a shoulder strap of your choosing. This bag can also fit most cell phones, extra batteries or emergency rations of your choice.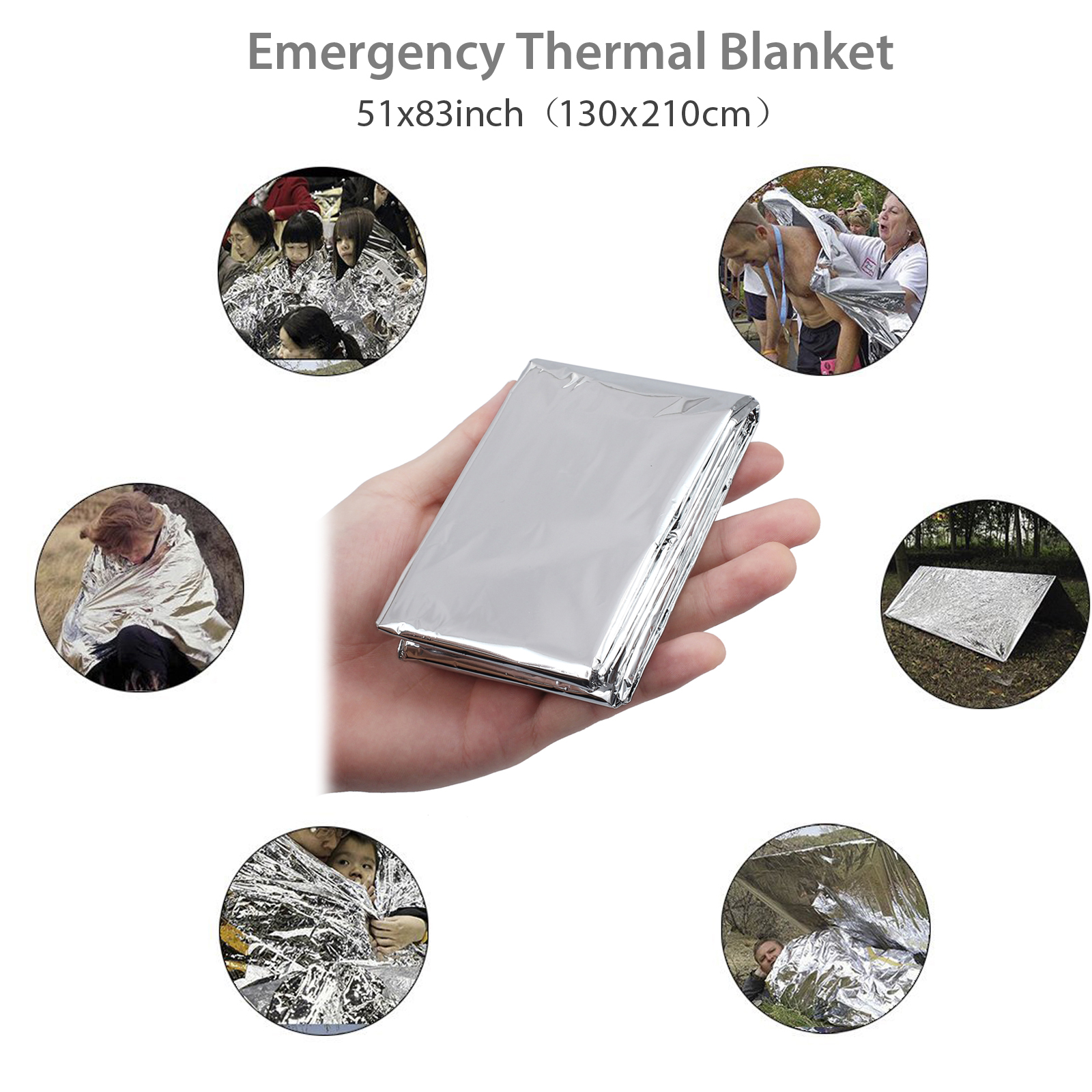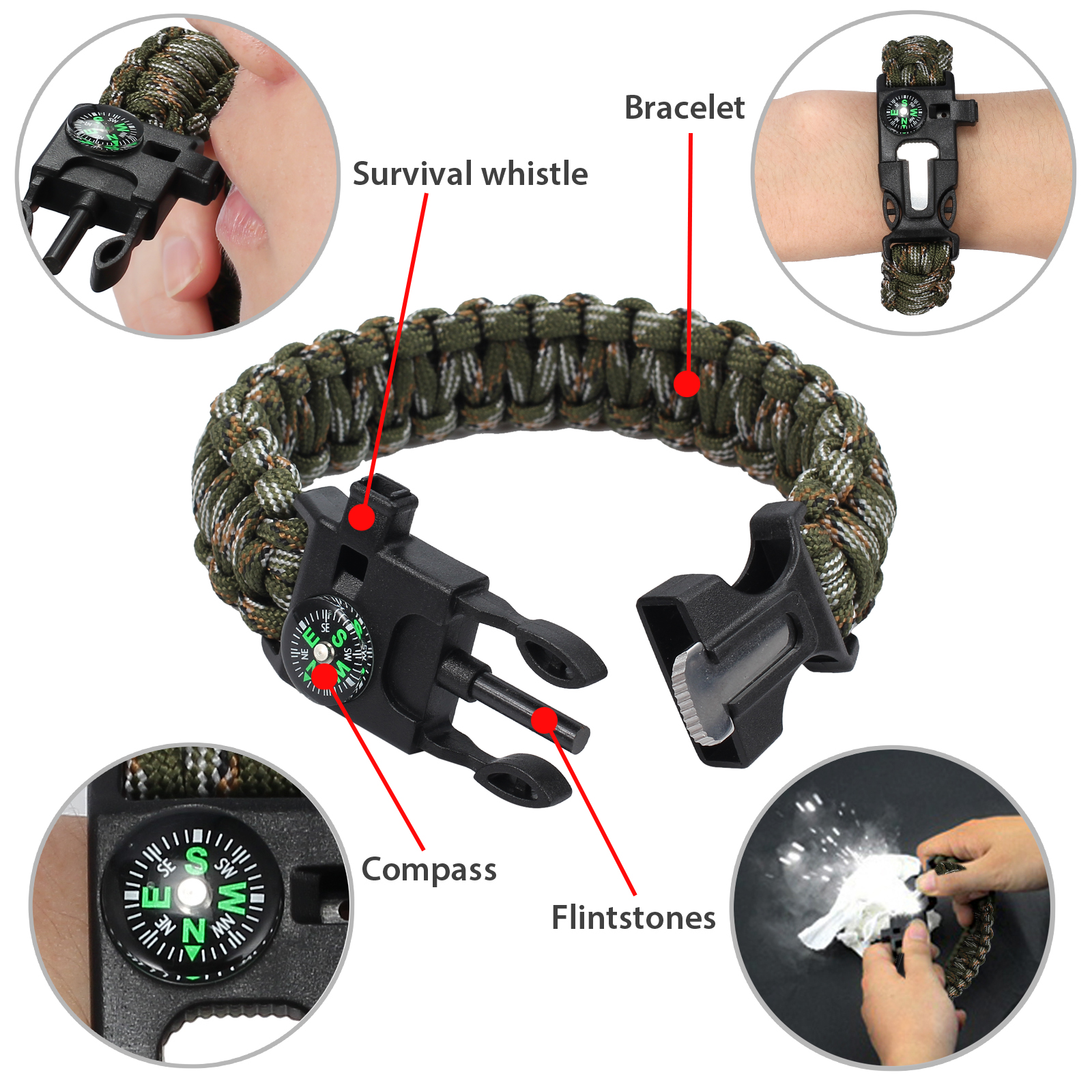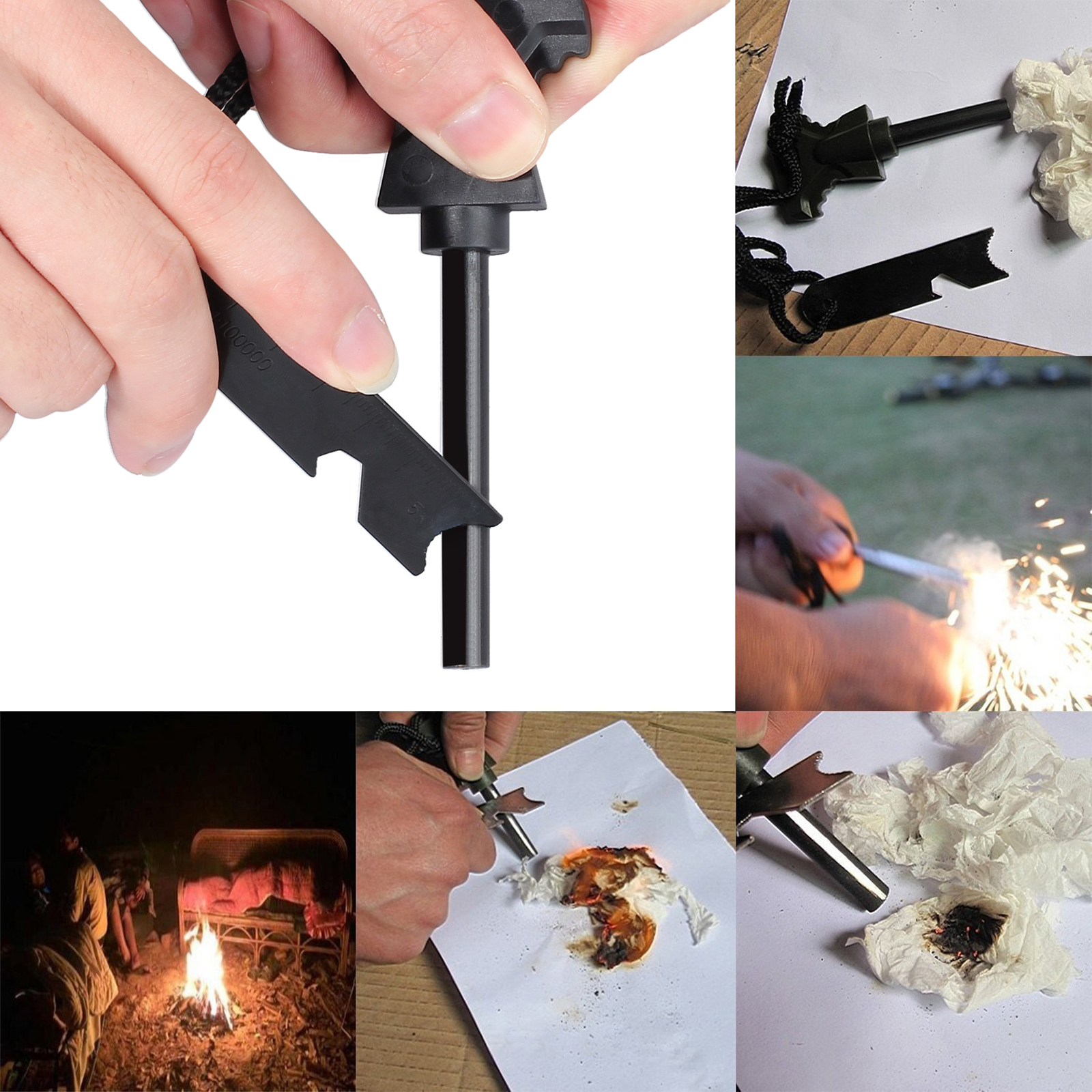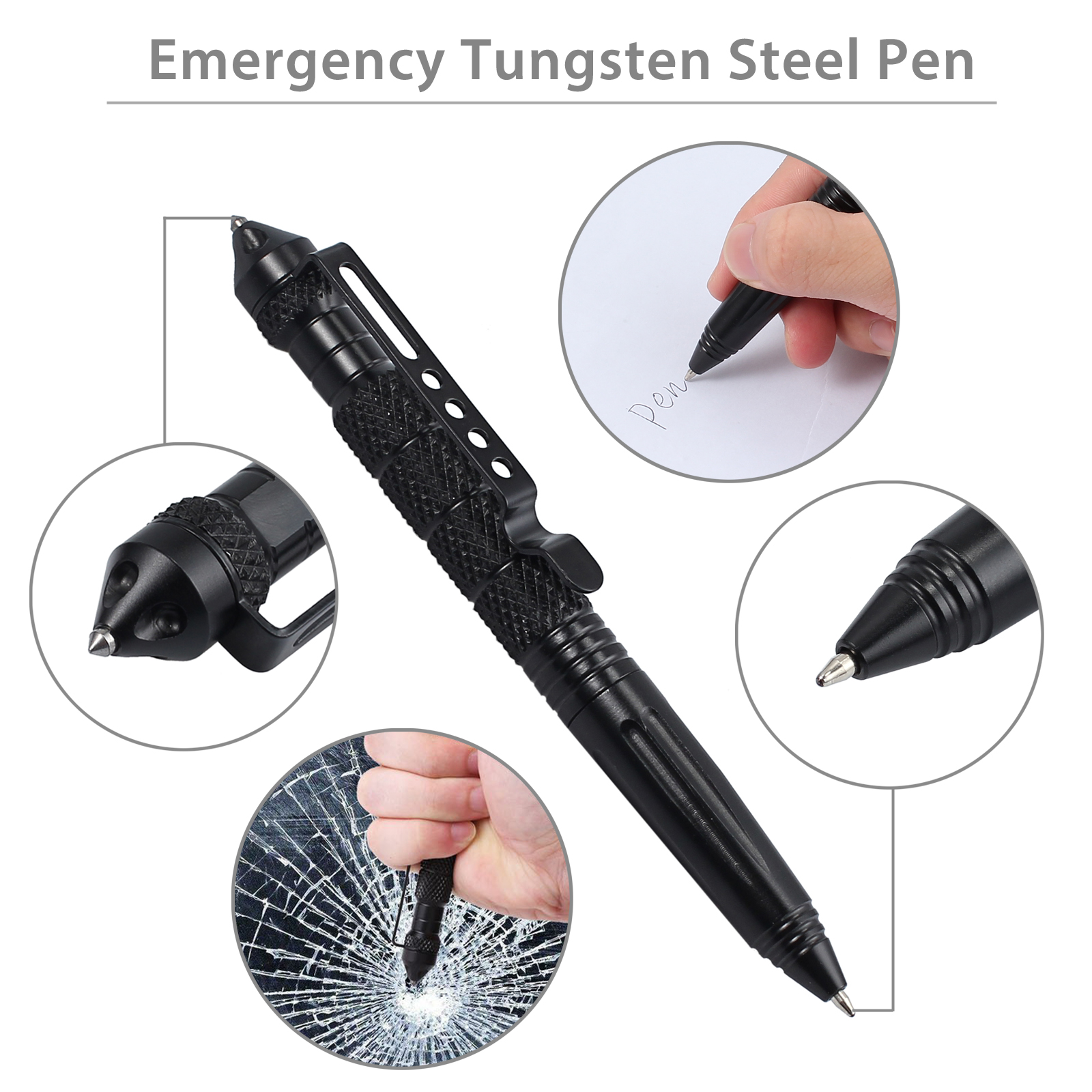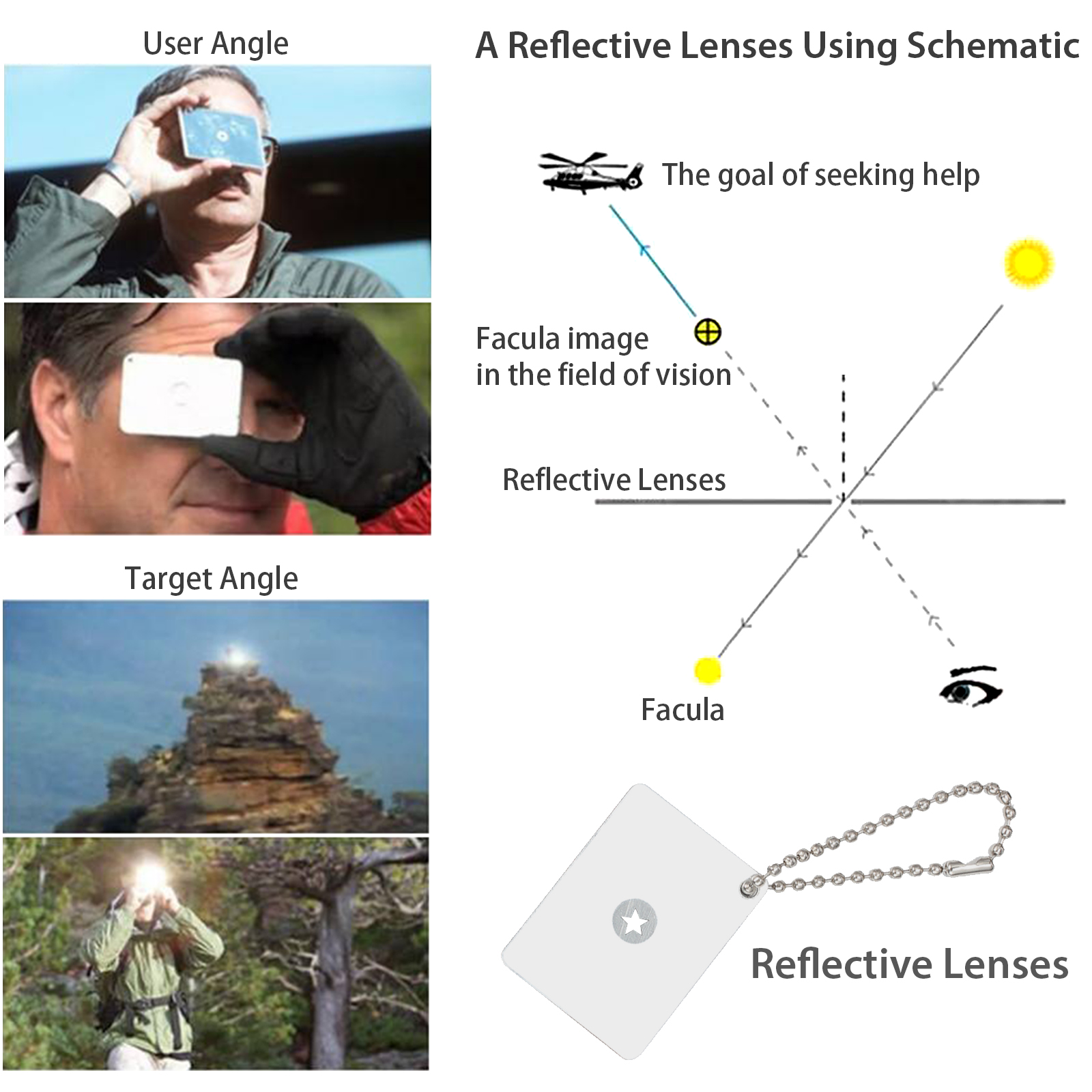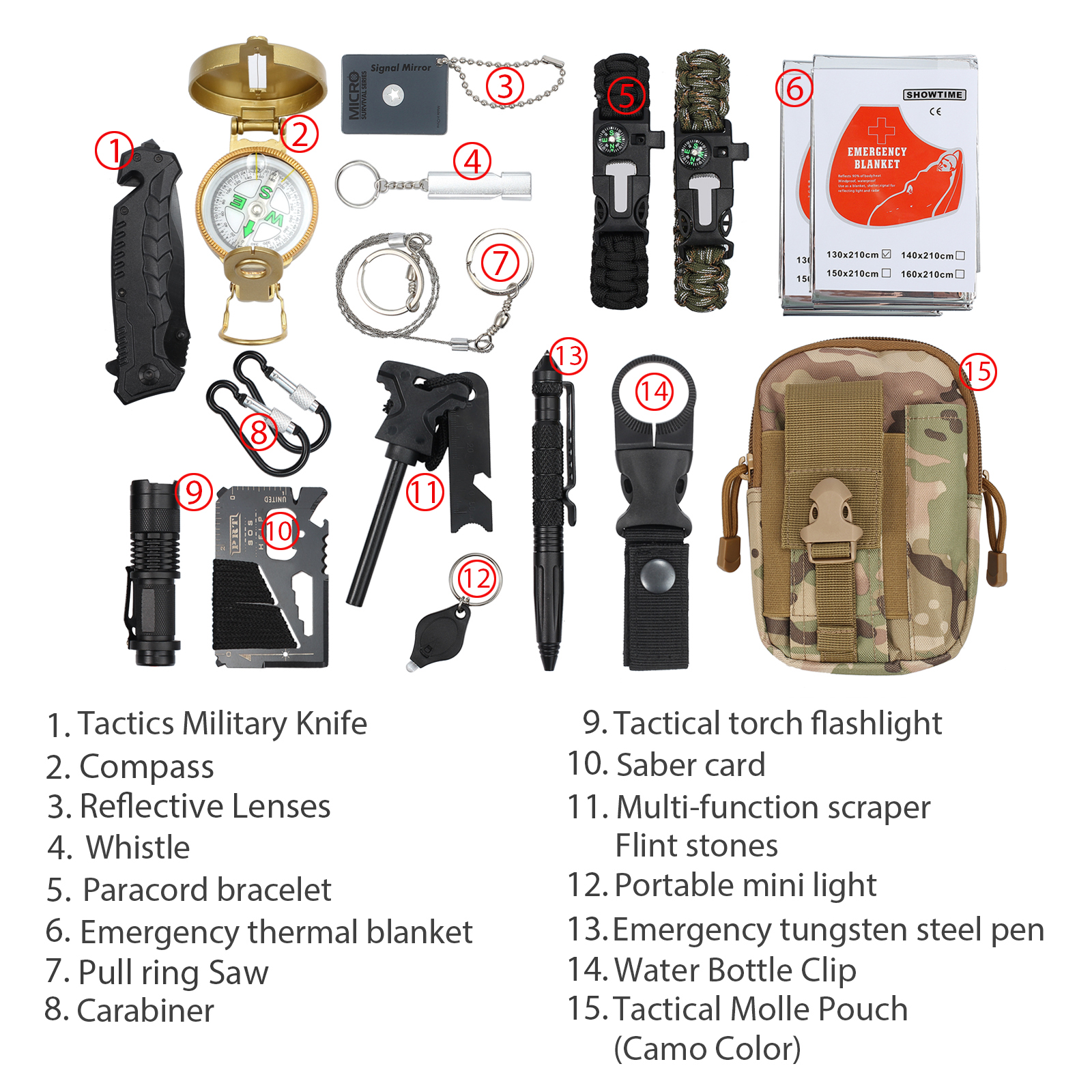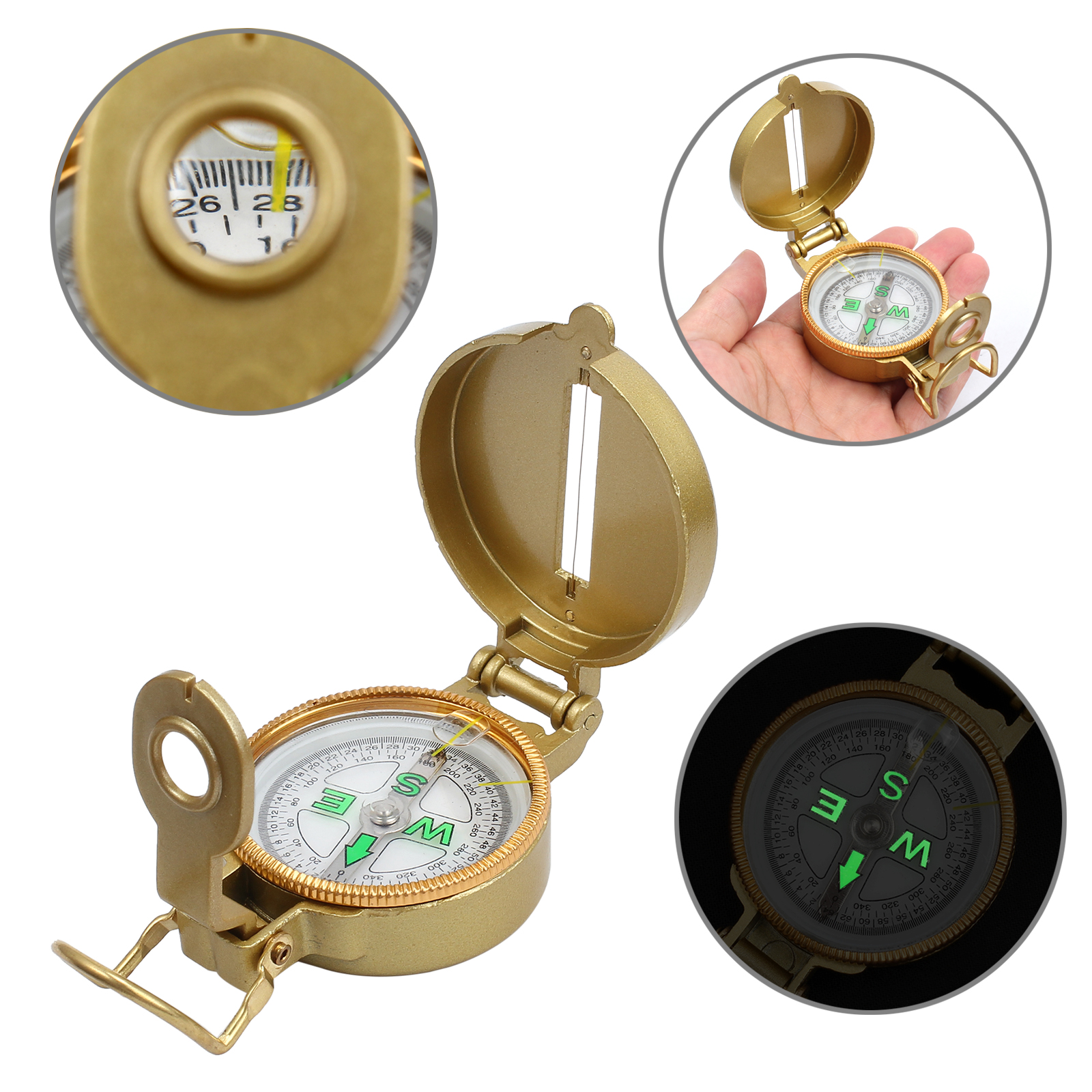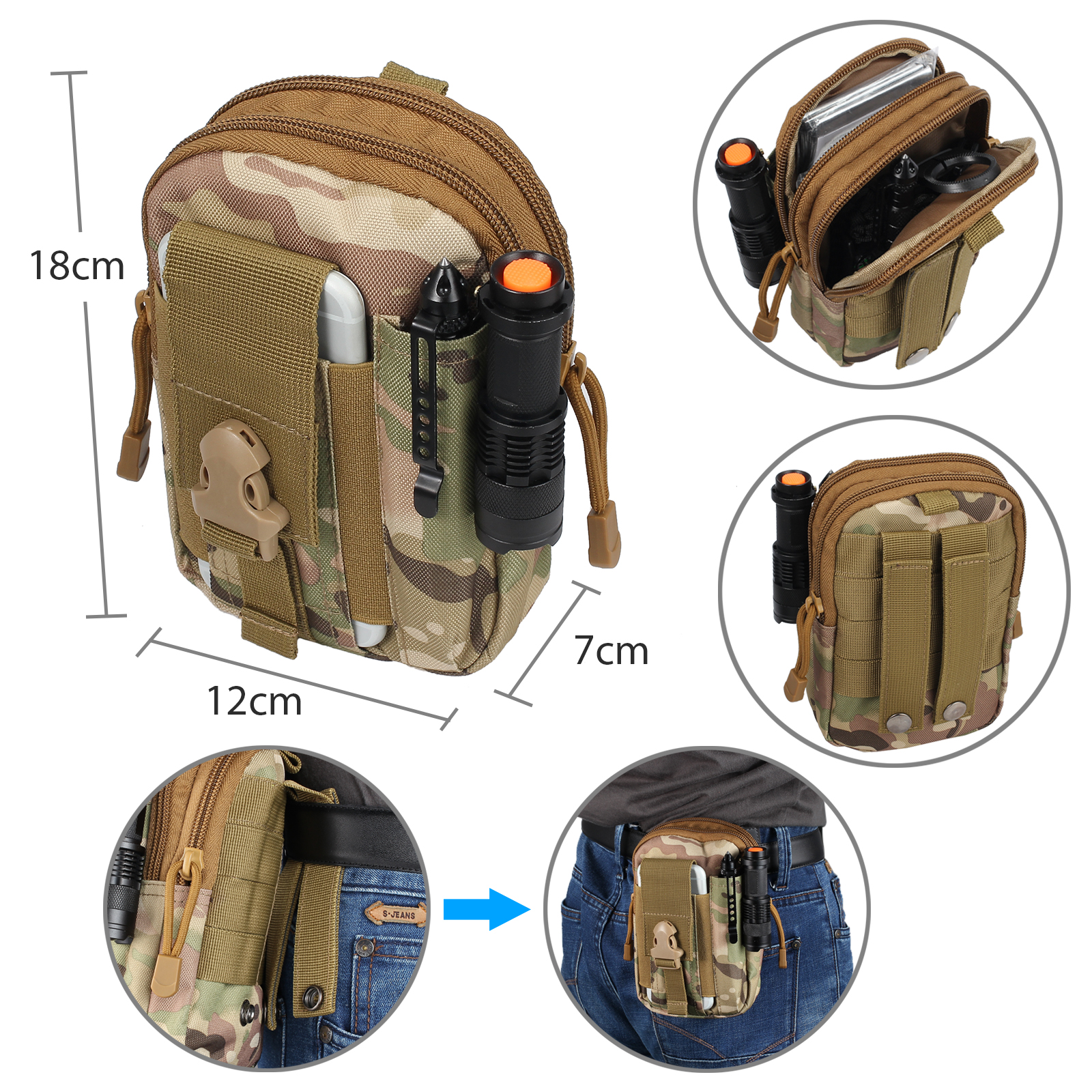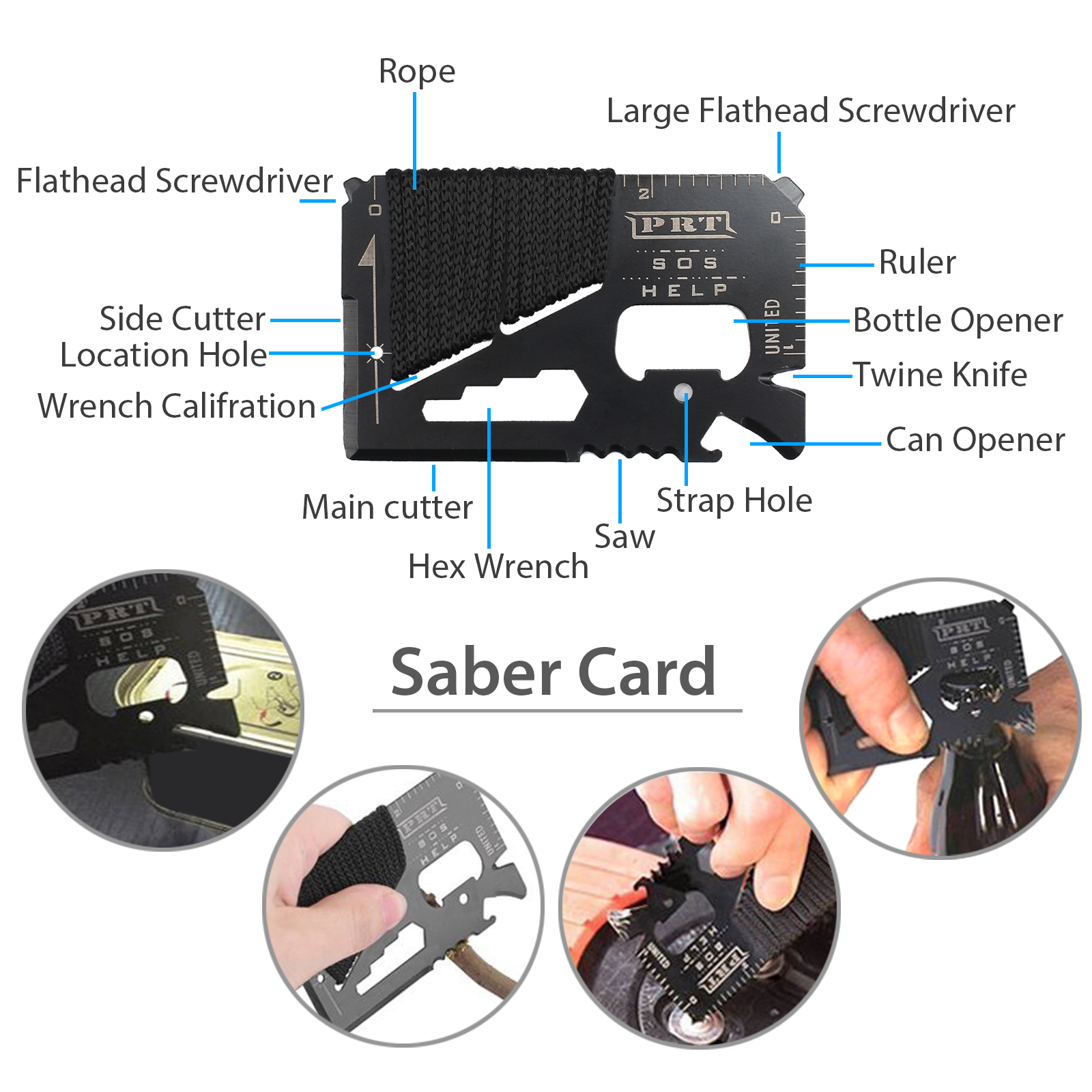 Package Included:
2x Emergency Thermal Banket
2x Paracord Bracelet
2x Carabiner
1x Flintstones
1x Multi-function Scraper
1x Emergency Tungsten Steel Pen
1x Tactical torch Flashlight (requires 1x AA battery, not included)
1x Compass
1x Portable Mini Light
1x Tactics Military Knife
1x Saber Card
1x Pull Ring Saw
1x Reflective Lenses
1x Whistle
1x Water Bottle Clip
1x Tactical Camo Molle Pouch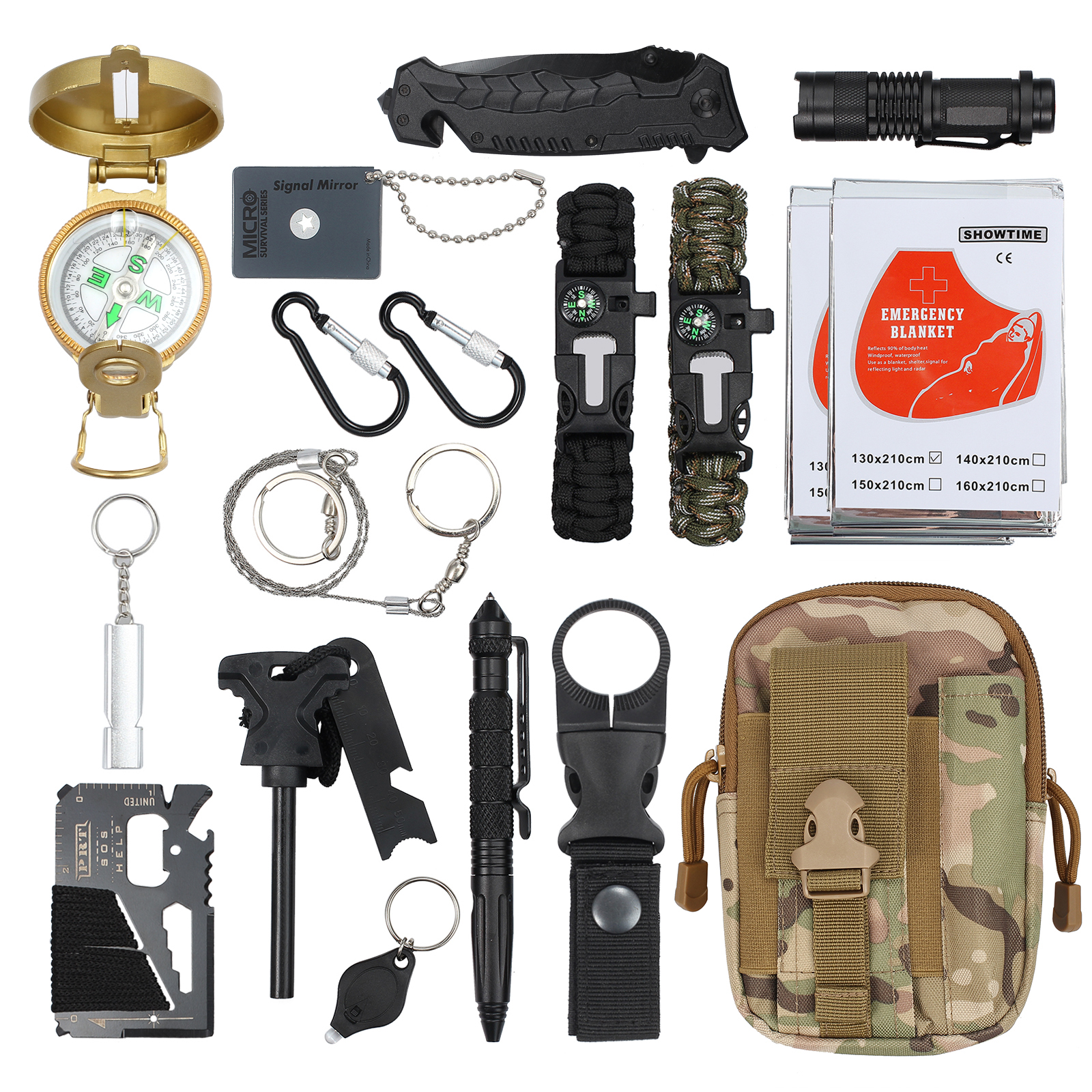 Who Are We?

---

TACTICAL TEAMS is based in Texas, USA. We are a professional e-commerce company specializing in pet supplies and other consumer products. We will always do our best to exceed your expectations in customer service, communication and fulfilling only the best products for your orders.

For any questions, please contact us at shop@tactical-teams.com. It is our best interest to answer questions quickly and provide prompt and excellent service. We will reply your message within 24 hours.
Shipping and Return Policy

TACTICAL TEAMS offers international shipping. Please provide a reliable, physical address to accept your package delivery. We do not ship to Army Post Offices (APO) or Fleet Post Offices (FPOs) at this time.

| | |
| --- | --- |
| Area | Delivery Time |
| | |
| United Kingdom, Canada, Australia, New Zealand | |
| France, Spain, Germany, Netherlands, Japan, Belgium, Denmark, Finland, Ireland, Norway, Portugal, Sweden, Switzerland | |
| |  15 business days or more |

TACTICAL TEAMS offers a hassle free 30 Day Return Policy. If you are not happy with our products, you may return any non-personalized item in new, unused condition for a refund - no question asked. Customer pays return shipping cost unless the products are defected, wrong or missing.
Verified Secure Checkout

TACTICAL TEAMS is powered by industry leading encrypted system to ensure your full protection. Our Secure Sockets Layer (SSL) software is among the best software available today for secure online commerce transactions. It encrypts all your personal information, including credit card number, name, and address, so it cannot be read as it travels over the Internet.

TACTICAL TEAMS is concerned about the safety and security of your information. So we have put a number of technological protections in place to ensure that our transaction process is extremely safe and that your information is secure.
---