---
---
Hassle Free Return Customers may return products within 30 days of delivering for a refund - no question asked. See Details
Money Back Guarantee Full Refund or Exchange if item is not as described, damaged, missing or does not arrive.
---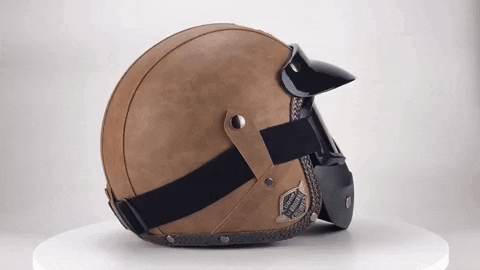 Safe material ---- uses light ABS and PU leather shell enhances the EPS buffer layer, motorbike Helmet effectively reducing impact and impact, easily protect your head, Retro Harley motorcycle helmet provide comprehensive protection for your outdoor safety.

Unique design----With added goggles design. Motorbike helmet UV-protected and sand bugs enter the eye,motorbike helmet ensure driving safety, give you more considerate enjoyment.

Comfortable helmet---- uses the thermal polymer shell provides reliable protection and enables an exceptionally low weight .Motorbike helmet breathable soft lining, which improves comfort noticeably(Removable cleaning of goggle mask and lining)

Convenient and practical ----- safety buckles and belts are adjustable. Motorbike helmet adjusting the length you want also ensures safety and comfort.

Classic style----adopts classic retro style, motorbike helmet fit Off Road racing motocross.
M:57-58cm
L:59-60cm
XL:61-62cm
XXL:63-64cm
Who Are We?

---

TACTICAL TEAMS is based in Texas, USA. We are a professional e-commerce company specializing in pet supplies and other consumer products. We will always do our best to exceed your expectations in customer service, communication and fulfilling only the best products for your orders.

For any questions, please contact us at shop@tactical-teams.com. It is our best interest to answer questions quickly and provide prompt and excellent service. We will reply your message within 24 hours.
Shipping and Return Policy

TACTICAL TEAMS offers international shipping. Please provide a reliable, physical address to accept your package delivery. We do not ship to Army Post Offices (APO) or Fleet Post Offices (FPOs) at this time.

| | |
| --- | --- |
| Area | Delivery Time |
| | |
| United Kingdom, Canada, Australia, New Zealand | |
| France, Spain, Germany, Netherlands, Japan, Belgium, Denmark, Finland, Ireland, Norway, Portugal, Sweden, Switzerland | |
| |  15 business days or more |

TACTICAL TEAMS offers a hassle free 30 Day Return Policy. If you are not happy with our products, you may return any non-personalized item in new, unused condition for a refund - no question asked. Customer pays return shipping cost unless the products are defected, wrong or missing.
Verified Secure Checkout

TACTICAL TEAMS is powered by industry leading encrypted system to ensure your full protection. Our Secure Sockets Layer (SSL) software is among the best software available today for secure online commerce transactions. It encrypts all your personal information, including credit card number, name, and address, so it cannot be read as it travels over the Internet.

TACTICAL TEAMS is concerned about the safety and security of your information. So we have put a number of technological protections in place to ensure that our transaction process is extremely safe and that your information is secure.
---